Pastoral Staff
Through the years God has provided us with stability and unity through devoted pastors who were chosen by God to shepherd His people. Each was equipped to lead us to greater maturity in Christ, from our historic focus on missions to our newly increased focus on discipleship. Senior Pastor Mark Cizauskas was installed in 2012, and he quickly set a tone of the utmost adherence to biblical truth, unity in the church and spiritual growth.
---
Senior Pastor
Mark Cizauskas became the Senior Pastor of First Baptist in June of 2012. Prior to this, he served on the pastoral staff of West Cannon Baptist Church in Belmont, MI. Mark attended Baptist Bible College in Clarks Summit, PA as well as Grand Rapids Theological Seminary.
Mark's primary responsibilities at First Baptist are preaching and teaching along with shepherding the church family. Mark married his wife Marsha, also a BBC graduate, in 1996 and together they have four children; Josh, Katelyn, Kendra and Kiley. Mark enjoys spending his free time with his wife and children.
---
Discipleship & Outreach Pastor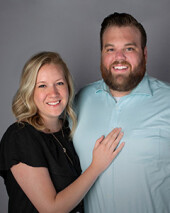 Tim Brokke joined the staff of First Baptist in June of 2013. He graduated with his B.A. in Bible in May of 2012 and has continued working on his M.A. in Pastoral studies since that time. Tim met his beautiful wife, Emily, while traveling on a music ministry team in college. While in school, Tim had the privilege to serve as a part-time music/youth director at a church in Anderson, SC.
Tim enjoys watching sports during his free time, especially NBA basketball!
---
Student Ministries Pastor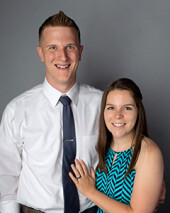 Wes Crawford joined the staff of First Baptist in April of 2018. Wes's main responsibility at FBCR is shepherding the student ministry. He graduated with his B.A in Pastoral and Theological Studies from Northland International University in May of 2015. Wes was married in the summer of 2015 to his wonderful wife Lindsey, and they had their first child, Levi, in September of this past year. In his free time, Wes enjoys anything hunting, fishing, sports, spending time with his family and dog, and reading!