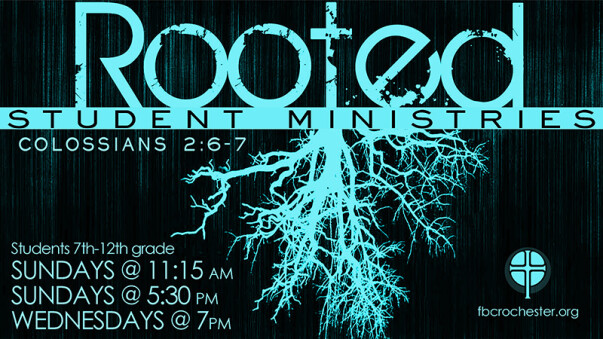 Discipling teens to glorify God
by being rooted in a love for God and others
Rooted Student Ministries at First Baptist Church of Rochester begins with an incredible vision of teens totally committed to Christ; so much so that their faith and energy inspires the entire church body! A successful student ministry reaches out to unsaved friends and grows Christians in their faith, teaching them how to care for one another and live in a manner worthy of their calling. Our desire is to see teens who are firmly planted in their faith so they can impact their community for Christ!
Schedule:
Sunday Mornings – 11:15 AM Sunday School
Sunday Nights - 5:30 PM "The Gospel Project"
To Register your teen for Sunday Nights, The Gospel Project - click here.
Youth Group – 7:00 PM Wednesdays