Missions and Missionary Enterprises
Always an important part of FBCR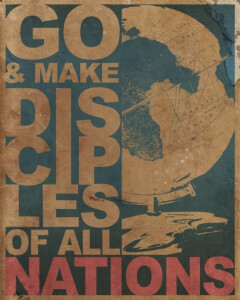 From the beginnings of our church, there has been a desire to fulfill the Great Commission and reach our world with the Gospel of Jesus Christ. It is our mandate and we are committed to fulfilling His directive through our local ministries and a world-wide missions program.
Jesus said: "All authority has been given to me in heaven and on earth. Go therefore and make disciples of all the nations, baptizing them in the name of the Father and of the Son and of the Holy Spirit, teaching them to observe all things that I have commanded you; and lo, I am with you always, even to the end of the age. Amen." (Matthew 28:18-20).
Today, our Great Commission team numbers over 45 active missionaries and agencies around the world as well as right here in the USA.
Many of our missionaries are involved in the following:
• Church planting
• Specialized services
• Educational Endeavors.
Email, Power Point, DVDs and other electronic communications bring the mission field right into our church and into our lives in a vivid way. We are true partners with our missionaries more than ever before.
To see the agencies associated with our Great Commission, please click here.
If you would like to know more about our missionaries, please contact the church office.